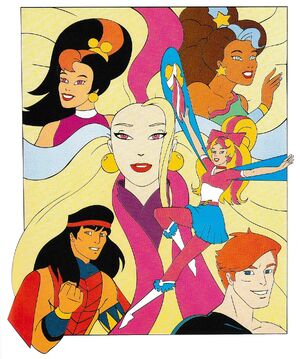 "Once you have wings, you can do anything!"
Welcome to the magical world of Sky Dancers! Each beautiful Sky Dancer unfolds her elegant wings and flies with the wind. Some flutter over colorful flowers or whirl on the crests of ocean waves. Others dance high on a breeze to kiss the shimmering moon. Watch your pretty Sky Dancers twirl and dance in the air as they lead you to a world of beauty and magic!
Sky Dancers is a toyline from the 1990's and 2000's which features a group of dancers with the ability to fly. It has spawned an animated series and a video game, along with several books.